Talk with someone about infertility
April 30th - July 31st, 2019
If you and your spouse are struggling with infertility and you are fighting the battle alone, please do not suffer in silence any longer. If you would like to talk to someone who has also walked this path, please register and someone will set up a meeting to talk with you.
Infertility Ministry
May 2nd - July 31st, 2018
We are in the process of beginning a ministry for those struggling with infertility and/or have experienced miscarriages. If you are interested in being a part of helping develop this new ministry, please register and click on "I would like to help with this ministry".
Starting Point for Adults & Youth
May 20th, 2018
Whether you have recently become a member of FBC, are interested in joining, or would just like to know more about who we are as a church, then Starting Point is for you. Pastor Chip will share a few key things about the church; who God is and what it means to follow Him; what we believe as a church; and what we expect from you as a church member as we Gather, Grow, Give, Go. At the conclusion, there will be an opportunity to become a member of the church. Our next quarterly Starting Point class is scheduled for Sunday, May 20 at 5:30 pm in Children's Building Room 215.
Youth Odyssey
May 30th - June 1st, 2018
$0 - $150
Location: New Orleans, LA
Cost: A $50 deposit is due by April 1. The full $150 is due May 1.
If you are paying by check it won't allow you to register online with out paying the full amount. You can bring a deposit check by the office
Odyssey: a series of adventures that are filled with notable experiences and hardships.
Each summer our teen's take an Odyssey. This summer we'll be going to New Orleans. We'll be staying in dorms on the campus of New Orleans Baptist Theological Seminary. The trip will be a mixture of fun experiences in New Orleans along with Bible studies.
Fun Activities:
Wednesday afternoon - New Orleans Zoo,
Wednesday night - laser tag, escape room, maze, cosmic golf and more
Thursday - World War 2 museum
Thursday Night - dinner out & a late night visit to Cafe du Monde
Friday - swamp tour
Quiet Times; New Orleans is a strategic and historic city. We have identified 4 events (explorers like Bienville, Battle of New Orleans in the War of 1812, the Louisiana Purchase, and Masquerade Balls) and have connected them with biblical passages to teach a memorable lesson to teens.
Bible Studies: New Orleans is one of the great food cities in the world. To take advantage of our location we'll focus the Bible studies on Biblical events involving food. The four sessions will cover God providing manna from heaven (God is our provider), the feeding of the 5,000 (Jesus has no limits in what He can do), the Prodigal Son (God celebrates with steaks when we return to Him), and the Lord's Supper (Jesus invites us to take part in His Kingdom).
Cost: $150
What's not covered in the $150? 2 fast food lunches, 1 dinner ($15-20), begniets at Cafe du Monde
Lodging: We'll be staying in dorms on the campus of New Orleans Baptist Theological Seminary. We'll have group meeting space for our Bible studies on campus as well plus eat our breakfast meals in their cafeteria. We had originally planned to stay at Restoration Church in Metairie, but the church had to undergo some unexpected renovations and are not able to accommodate us.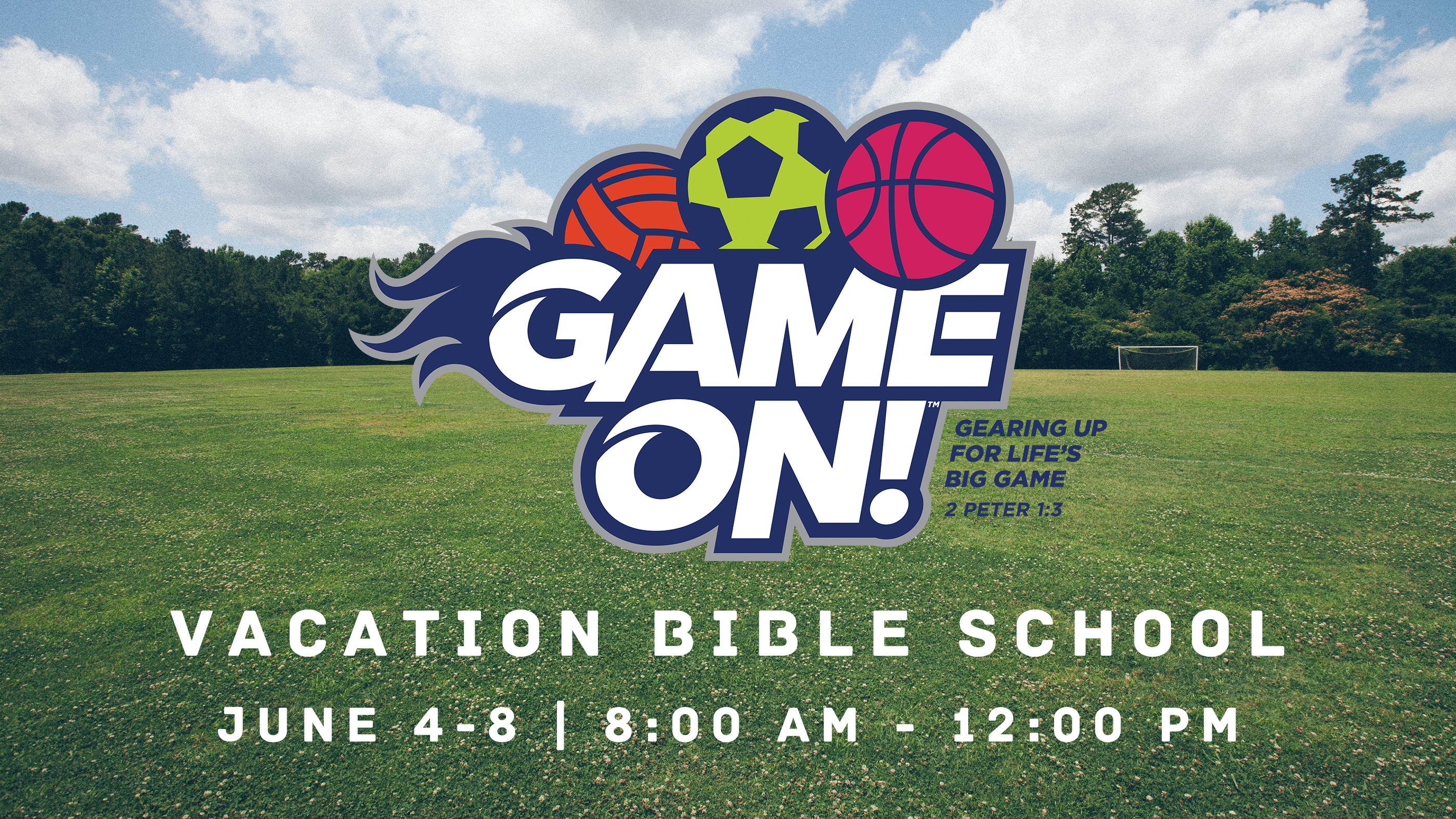 Vacation Bible School
June 4th - June 8th, 2018
FBC Starkville invites your kids to grab their megaphones, lace up their cleats, and tune up their instruments. As they fill up the offensive line, sideline, and drumline, your players, cheerleaders, and band members will realize God has given them His ultimate playbook. He wants them to join His team, train hard, celebrate salvation, and encourage one another. Get in the spirit today with Game On!
Drop Off will begin at 8 AM. Please note that we cannot take children before this time.
Camp in the City Scholarships
June 18th - June 22nd, 2018
Kids who have completed Kindergarten - 5th Grade are invited to attend Pine Cove's Camp in the City this summer. Camp will take place June 18-22. Registration through Pine Cove's website begins February 6th. Scholarships are provided through the link. Spots fill up quickly, so register soon!
Camp in the City - 6th Grade Only
June 18th - June 22nd, 2018
$75
We are excited to have a 6th Grade option again this year at Camp in the City! This option is for those who have completed 6th Grade by the time of camp. There are 8 boy spots and 8 girls spots available for camp.
Pine Cove has made a special allowance for us as they do not normally allow 6th graders to attend. Because of this, registration will go through our church. We will keep you updated as we get closer to camp!
If you have any questions, please contact Leah Frances at lfeaton@fbcstarkville.com.
Bear Creek Canoe Trip
July 11th, 2018
Youth Super Summer
July 16th - July 20th, 2018
$0 - $200
The deposit deadline has passed. You can still register, and you'll be added to Super Summer's waiting list. In previous years everyone on the waiting list has gotten into Super Summer, but there is no guarantee.
Location: Mississippi College Clinton, MS
Date: July 16-20, 2018
Who: Teenagers who have completed grades 8-12 and have met all eligibility requirements
Cost: $200
• $100 deposit is due by January 28 (the deposit is non-refundable & non-transferrable)
• Balance is due June 1
• Complete ALL of your requirements by March 31, and you will save $100 (you'll pay the deposit & the church budget will cover the remaining $100)
What is Super Summer?
Super Summer is a discipleship/evangelism leadership conference designed to provide qualitative spiritual growth and help develop student leadership in Mississippi churches. Utilizing a camp setting, for 30 years, Super Summer has challenged students to learn how to penetrate their culture for Christ.